Piaggio Porter
– my minivan & home



"Patscho" is my Italian minivan, which was a simple vehicle for public utilities before I bought it and converted it into a mobile home. Patscho's a bit smaller than usual campervans, but with a large loading area there's enough space for one person. So, it's perfect as a first home and for someone on a limited budget – and also served as my bachelor project 'Minimal mobile – mobile living in a small space'.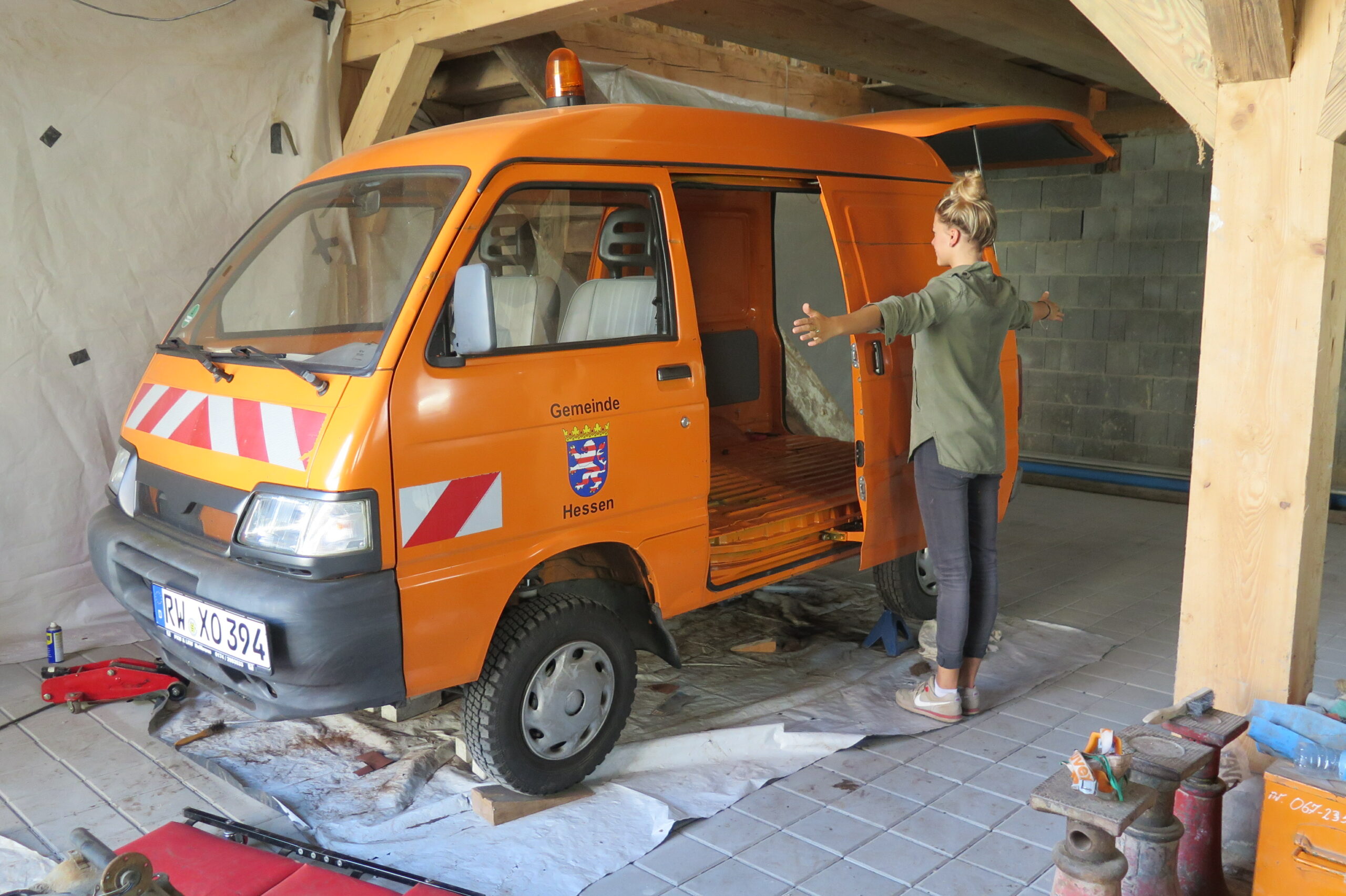 Self-construction
Choosing the self-construction route for a van makes it much easier to mould your campervan to your individual needs and requirements. Without a lot of expert knowledge, a comfortable home with personal character can be created quite easily and cheaply. I designed Patscho's interior according to my needs, and with the help of a carpenter and my family, I finished in less than a month. My minivan works like a Swiss Army knife; it's multi-functional and compact at the same time. When closed, it offers privacy and protection, with a sleeping area and storage space in the adaptable shelving unit. Having a little van means you can park and spend the night almost anywhere, whether in the middle of a city or a remote spot in the countryside. For even more flexibility, Patscho's functional modules can be easily changed by opening up, pulling, pushing and folding – for example, the seats and table inside.
Opening the van creates new outdoor spaces – the tailgate offers protection from the rain when cooking and eating outdoors, with plenty of room for social evenings with camper friends.
The construction of the conversion consists of 16mm-thick 3-layer treated panels (spruce). The panels offer high stabilityand low warpage, with a low dead weight, and they come fromsustainable forestry. They are also easyto work with and comparatively inexpensive. The interior can be assembled and disassembled by two people in just a few minutes.
No Results Found
The page you requested could not be found. Try refining your search, or use the navigation above to locate the post.
BLUEPRINTS
Here you can download a little excerpt of my thesis which contains some plans, pictures and german descriptions of my work. The blueprints are protected by copyright. You are welcome to use them for private purposes.
Please feel free to share anything as exchange for it. Send me a feedback, a story or inspiring thoughts.
Happiness and only real when shared.